Jorian Charlton & Kadine Lindsay
Fi Di
Gyal
Dem
Curated by Roya DelSol
Presented as a joint online exhibition of works by photographer Jorian Charlton and visual artist Kadine Lindsay, fi di gyal dem is an intimate celebration of the interior lives of Black women. Through a series of works including portraiture, paintings, animation and commissioned mixed media pieces that depict artist Kadine Lindsay—first through photographer Jorian Charlton's lens, then refracted with additional illustrated elements added by Lindsay herself—fi di gyal dem invites you to explore the work of both artists and the larger cultural moments that inform them.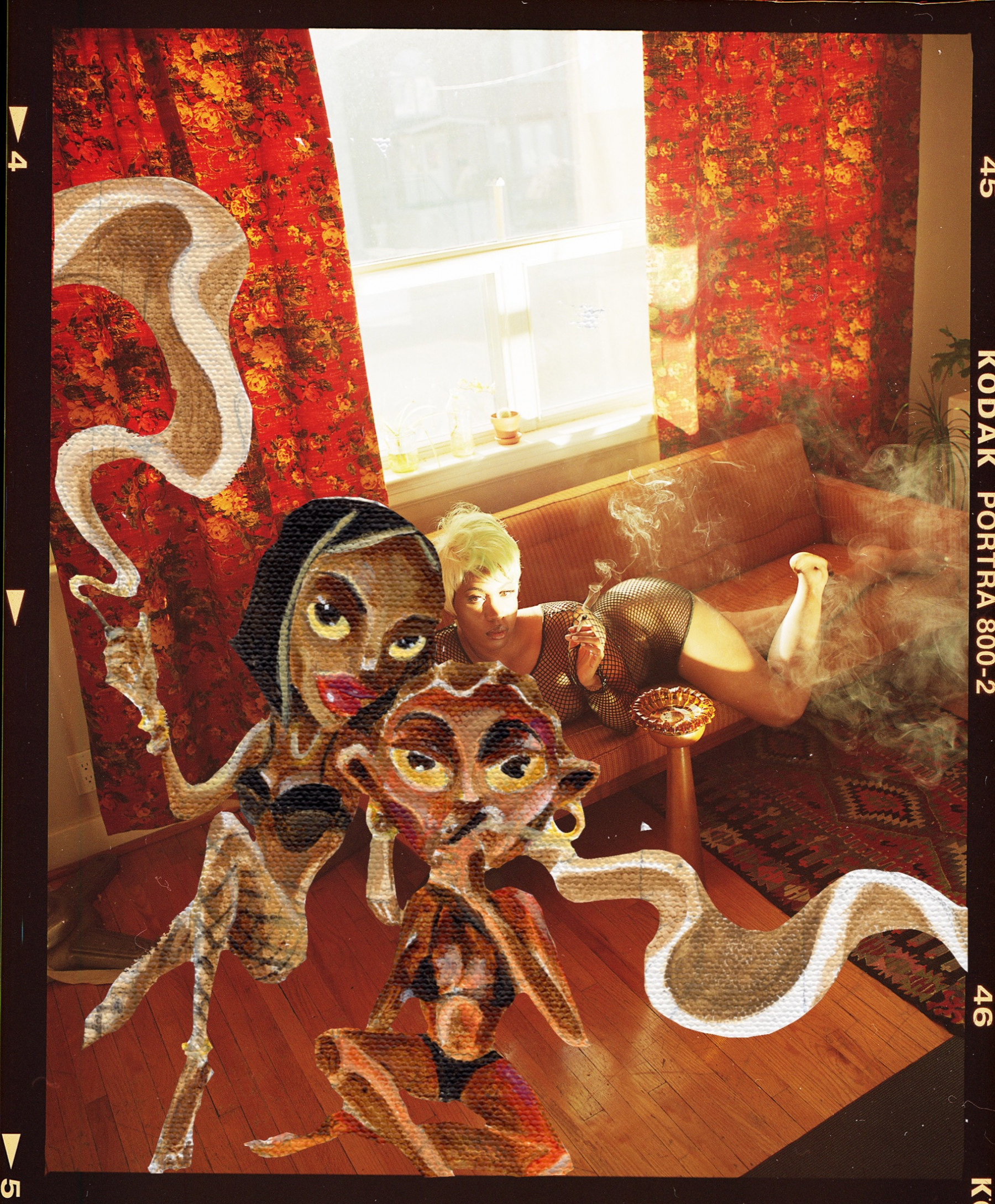 Under Me Sensei (2021), depicts artist Kadine Lindsay photographed by Jorian Charlton. In the image Lindsay lays on a couch, smoking a joint in a friend's sun-drenched living room on a languid afternoon. Lindsay then adds their own self-portraits to this image, painting two other women smoking next to them on the floor. Much like the photographic representation of Lindsay, they wear both lingerie and an unyielding gaze.
It's a libidinous, self-assured image. It's also a beautiful marriage of what both artists do so well in their work – Charlton's ability to imagine familiar, domestic spaces that allow her subjects to feel at ease; combined with Lindsay's use of multiplicity and divergent selves that allow us visual pathways to imagine the many layered inner worlds of the Black women they depict in their work (themselves included.)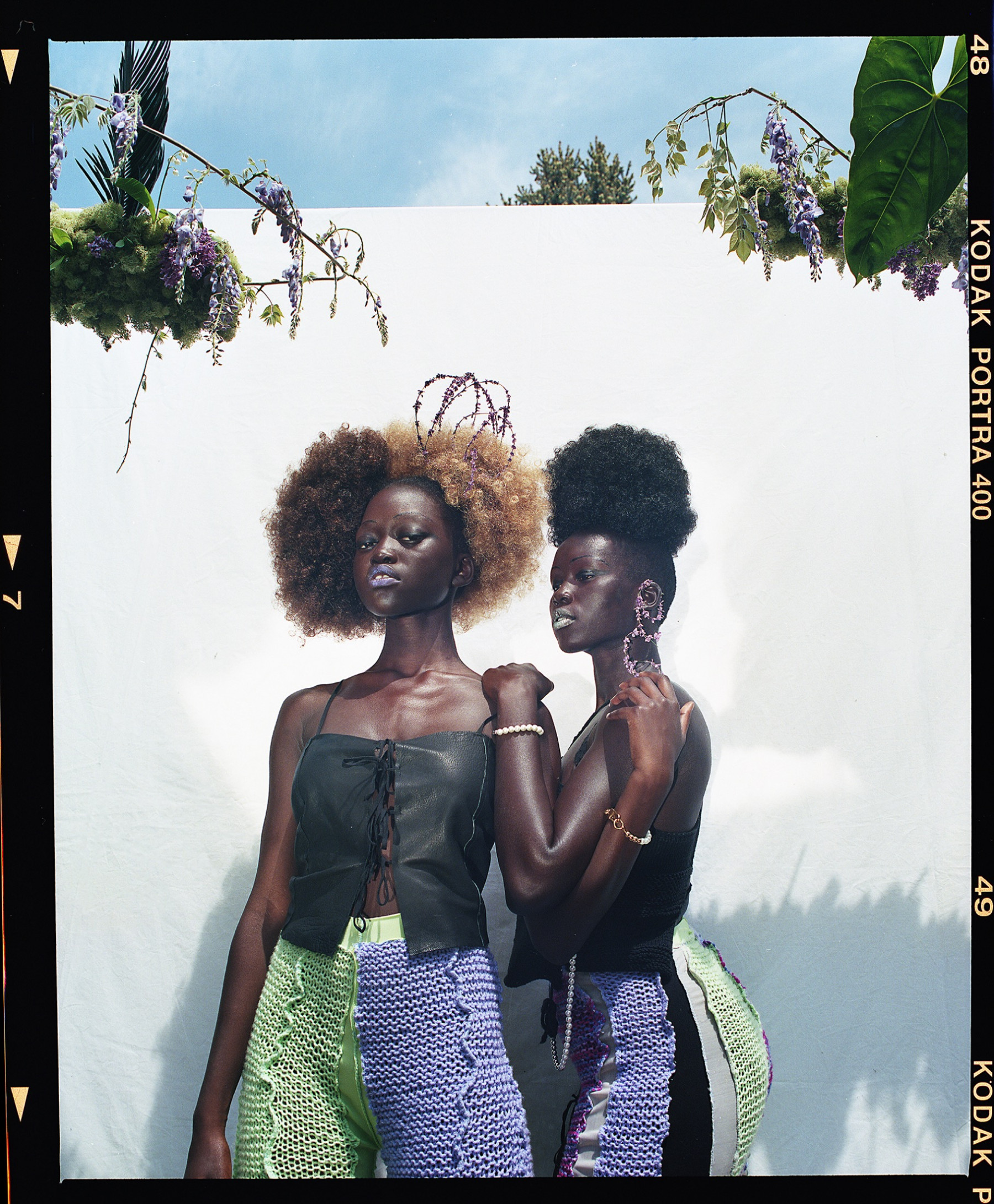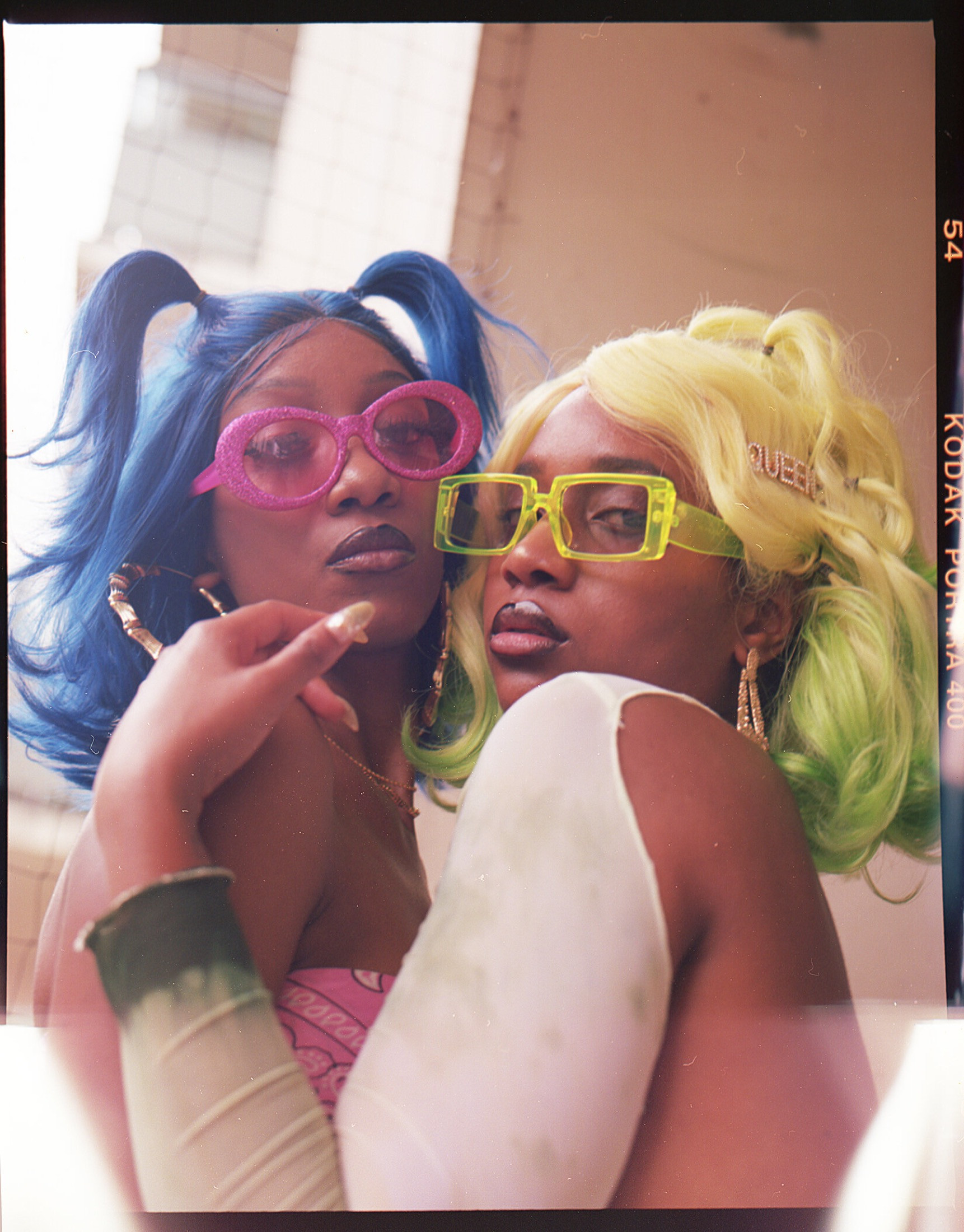 Sitting at the intersection of fashion and documentary, Charlton's contemporary portrayals of Black women display a vulnerability & willingness from her subjects to meet the camera as their full uncensored selves. Shooting mainly on medium format, Charlton photographs with an unhurried rhythm that allows for razor sharp compositions, an often striking use of natural light, and ample room for subjects to unfold in front of her lens. The result are portraits that allow Black women to be seen as they really are – bold, tender, vulnerable, sensual – undaunted by a world that often projects upon them, or fails to see them at all. Here, through Charlton's lens, the wholeness of their interiority is on full display.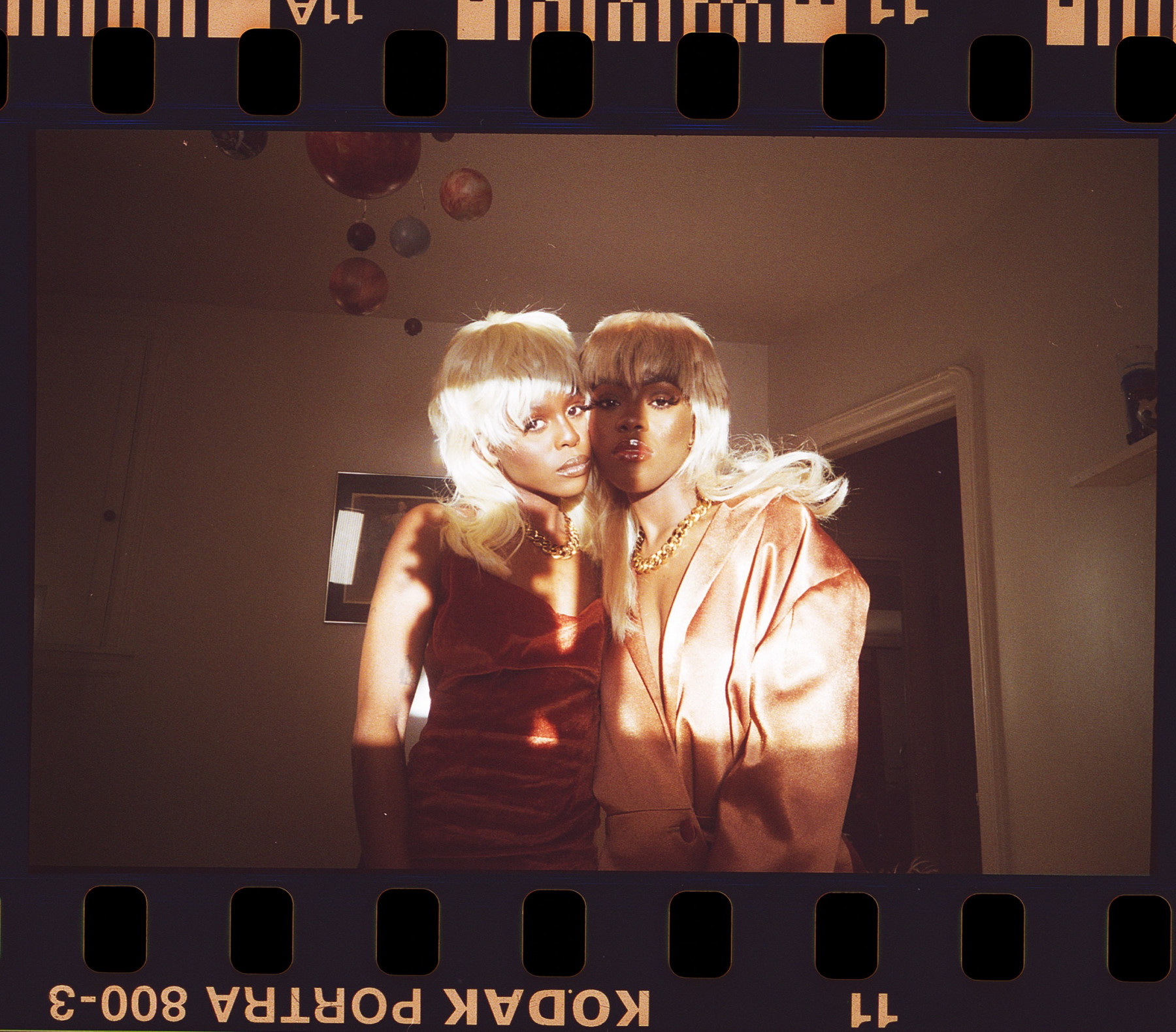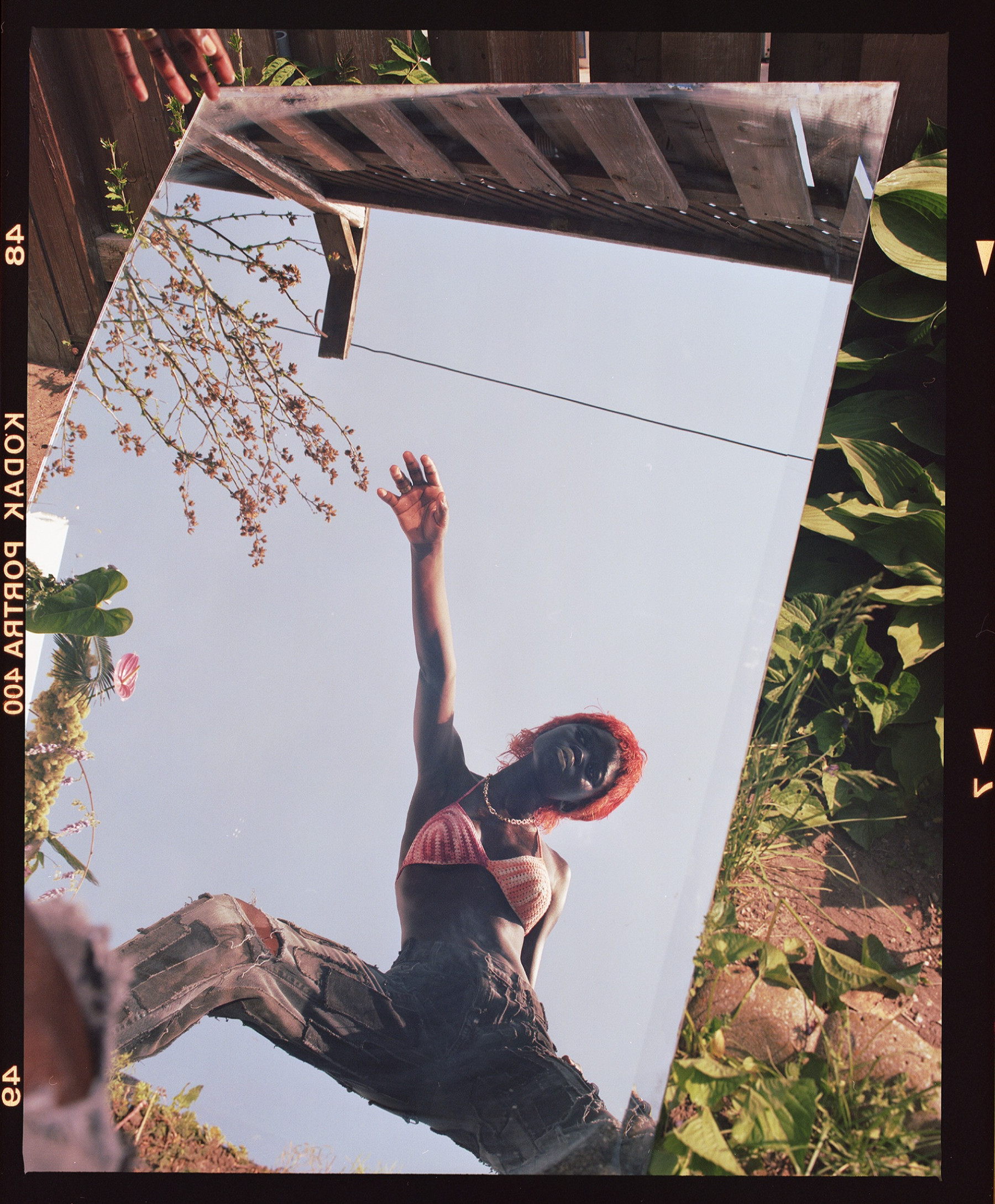 Omi Ra
Journal Entry #1: What's in a Name?
By now, I'm sure you've heard many stories on the creation of women. All of them are true. I want to tell you though, how Jamaican women are made.
By now, I'm sure you've heard many stories on the creation of women. All of them are true. I want to tell you though, how Jamaican women are made. My grandmother told me two things about Jamaican women, that I could not understand until I became one myself.

The first thing she told me was that we're made in the dark and often we stay in it. It is only until and unless we gather our courage can we exit the dark and take our rightful place centre stage. The second thing she told me was that three things define Jamaican women: shame, cunning and the gift of rebirth. These three things inform the sway of our hips as we move through city streets, the musical rhythm of our speech in the heat of an argument and the intricate way we make worlds from nothing. These things that define us are what we use to measure the beauty of our lives and to overcome the cards we are dealt, some hands more sinister than others.

There are some whose names we have the privilege of saying aloud — women like Lady Saw, Macka Diamond and Gaza Slim. But there are many more whose names are written in prayers alone with the hopes that the Lord's salvation may return them to lives of respectable simplicity. Where instead of dancing in a go-go costume under the devil's influence, God's eternal favour shines down on them while scrubbing floors for the third time that week. For those who fall outside of heavenly benevolence, they must be brave enough to make their own lives. Of all the Jamaican women that embody this, there is none that does it so completely as those who shirk the mundaneness of life and choose instead to pursue with vigour the position of dancehall queen. This figure in island culture is essential to the making of a Jamaican woman. Under her auspices, we are able to see for ourselves all the qualities that one can embody after stepping outside of the dark and into the part unknown to taste the nectar of freedom. But first, we must cast off shame and move away from being the captive audience of their own lives. This is the subject of the work of Jorian Charlton and Kadine Lindsay.

When I saw Batta Ears Gyal work for the first time, it reminded me of the salient truth that freedom is a personal duty and that it often requires the taking on of a fugitive a status. The womanhood that I was taught cautioned me against any embodied representation of the self. I was to follow order to the strictest degree, to be virtuous and to never fight back. In essence, I was taught to repress any version of myself that might unsettle my elders who had put themselves in straits in an effort to meet an elusive, ever changing standard of femininity. But most of all, I was to embody femininity in a way that could capture the desire of men, for more than anything, this is what I needed to survive. It was only until that I chose my life for myself, that I would experience real freedom. As the subject in Batta Ears Gyal drives away, cigarette in hand and hair surrendered to the wind, I see myself and the generations of women before me who dreamed of elsewhere, somehow. This character's cerulean skin speaks to the self-alienation that must occur in order to set oneself free. In Lindsay's body of work is the delight of self determination no matter the cost. Between the decidedly non-human skin tones and their plaintive emotional expressions, there is no better representation that freedom is a constant struggle but one that we must always take up.

After I realized the magic of the choice that I was then allowed to make, that I decided was mine for the taking, it was time to cultivate tenacity to remember the name I'd chosen for myself. I needed to train myself to hear my own voice and trust my own gaze. Many of the characters in Charlton's body of work affirm the importance of a seeing of the self. Consistent through her lens is the certainty of her subject's autonomy. Though her employment of the intersubjective gaze, her subjects look through the lens of her camera to meet the viewer exactly where they are. This, I believe, mirrors the ways that the dancehall queen takes their own flight. On stage, on the dance floor, on the television; all bear witness to the magic yet to unfold. The mastery of acrobatics, the charisma that holds the gaze of all who dare witness and the innovation evident in the style of dress. Charlton's subjects engage in a revolutionary talking back, citing no leader, no charge but whatever they've set for themselves.
Read Essay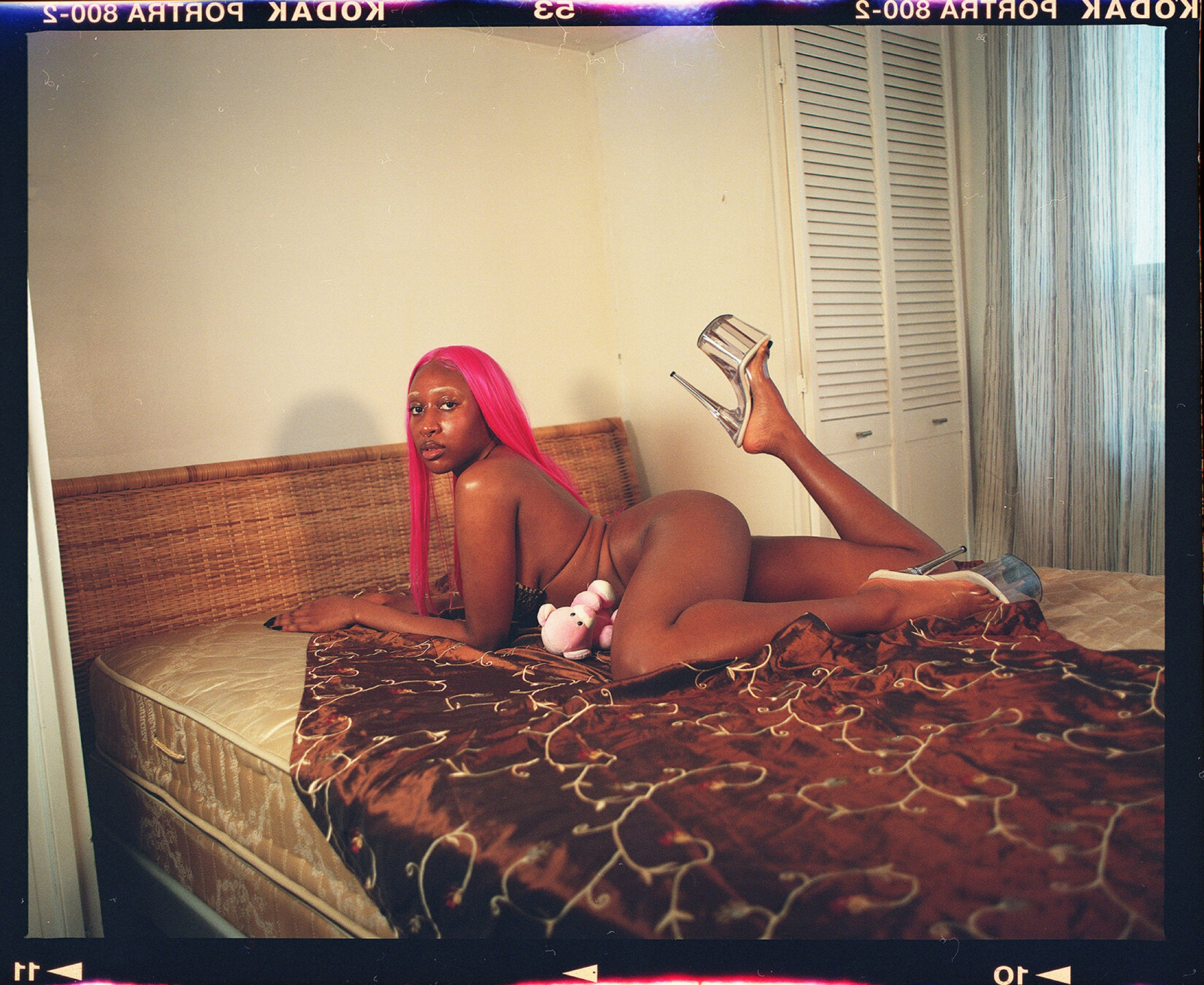 I remember being punished as a child for staring, for those hard intense direct looks children would give grown-ups, looks that were seen as confrontational, as gestures of resistance, challenges to authority… There is power in looking.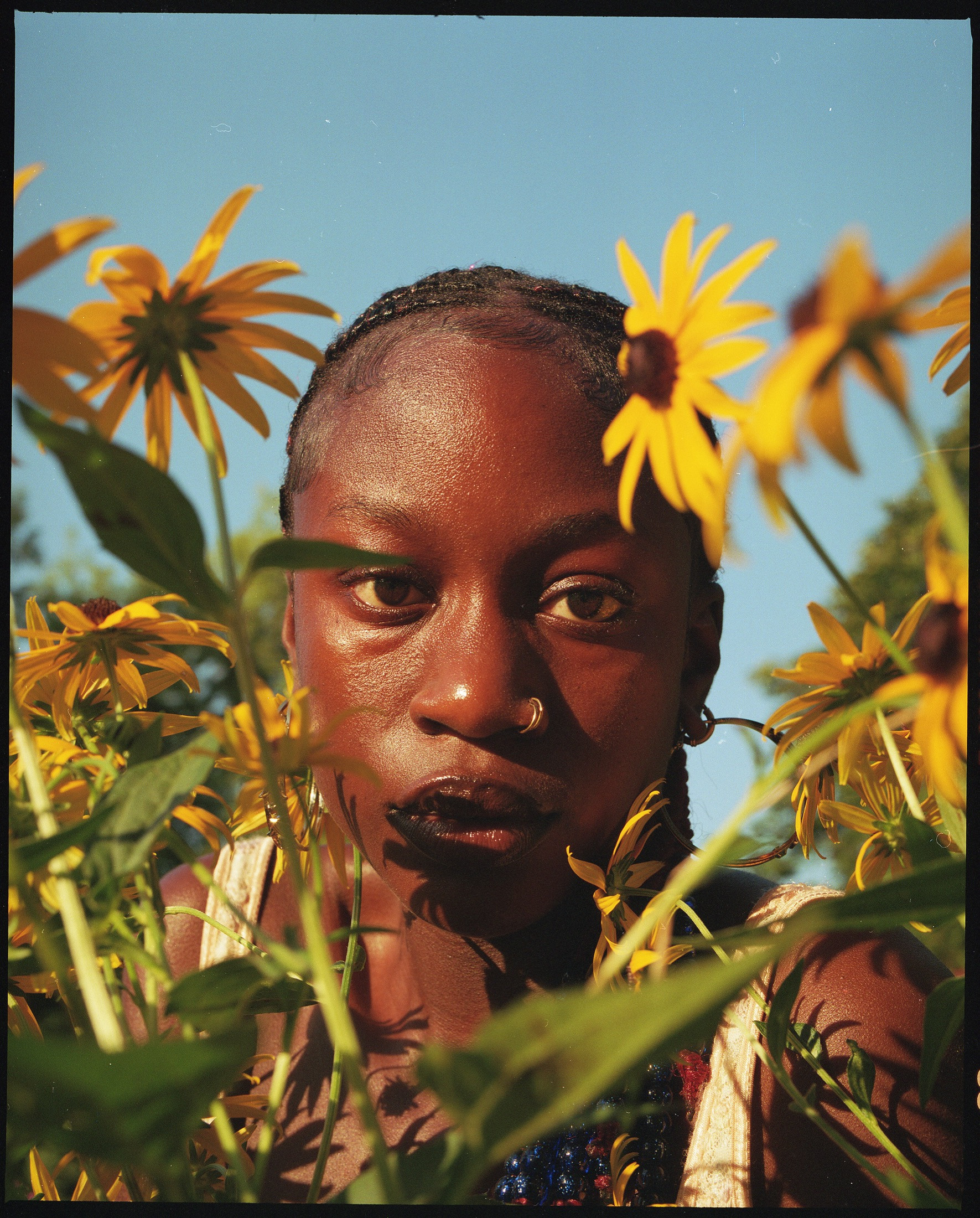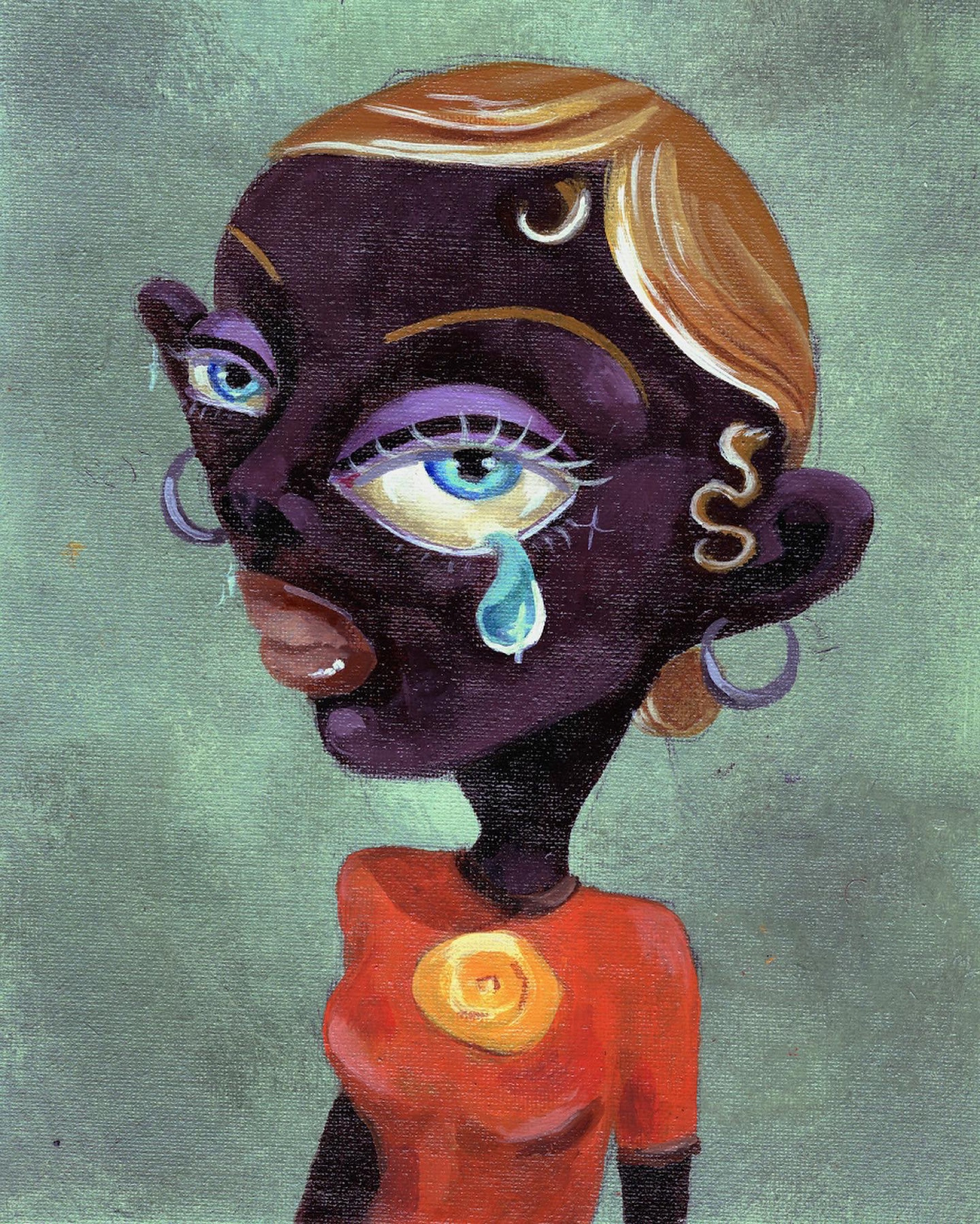 In contrast to Charlton's documentary style approach, Lindsay's surrealist illustrations depict a world that, while fantastical, is firmly rooted in their lived experience. A luxuriant use of colour in these works calls back to a Jamaican upbringing where bright, saturated tones dominated public space and covered the facades of neighboring homes. Works like Woman (2021) and Pon Di Pole (2021) depict their protagonists coming into their sexual autonomy, in defiance of societal perceptions of Black women as hypersexual and pressure to perform respectability. Here, there's space for self-exploration and sexual awakenings; where multiple versions of the self exist to explore the many roads to self-actualization.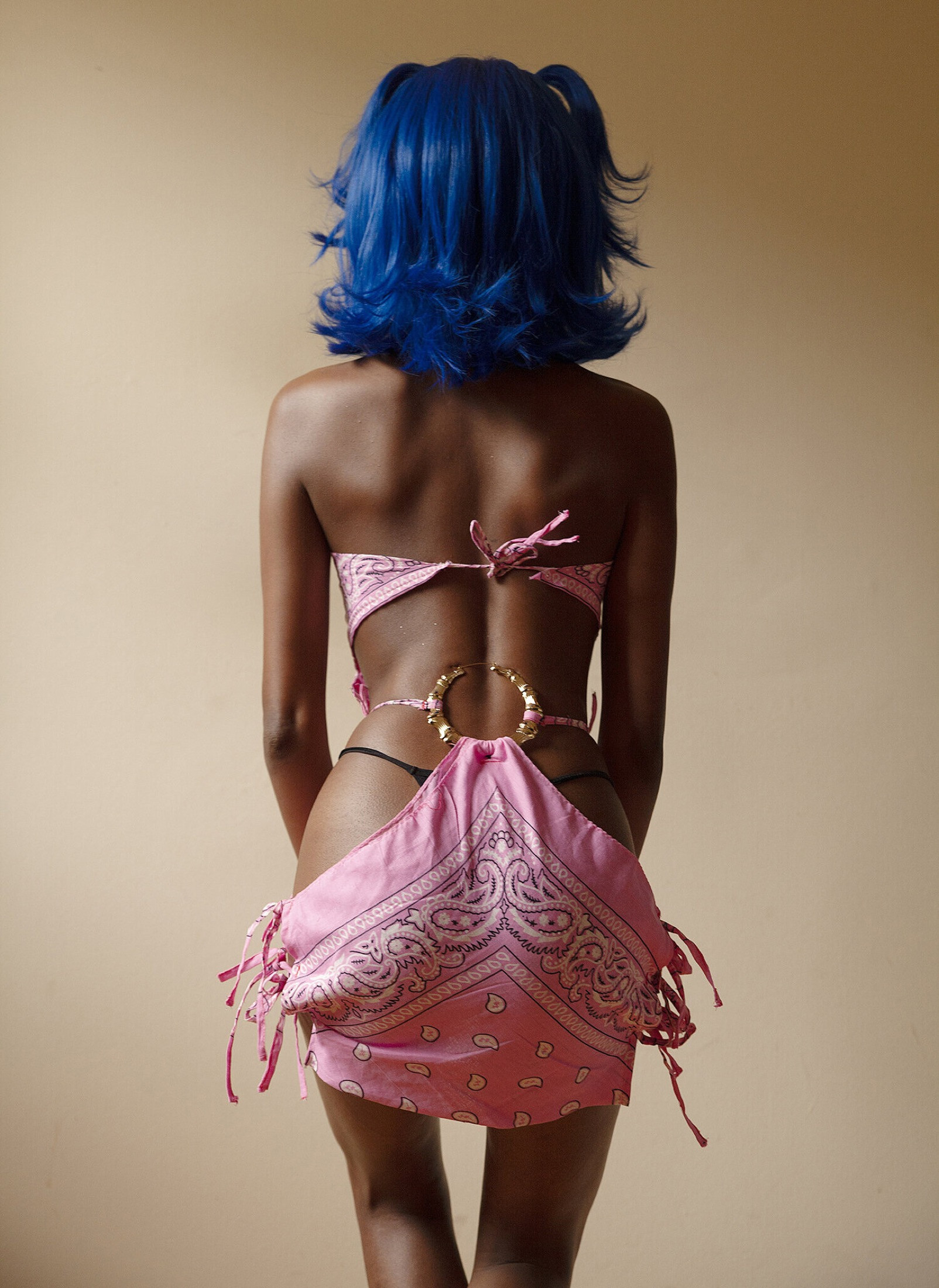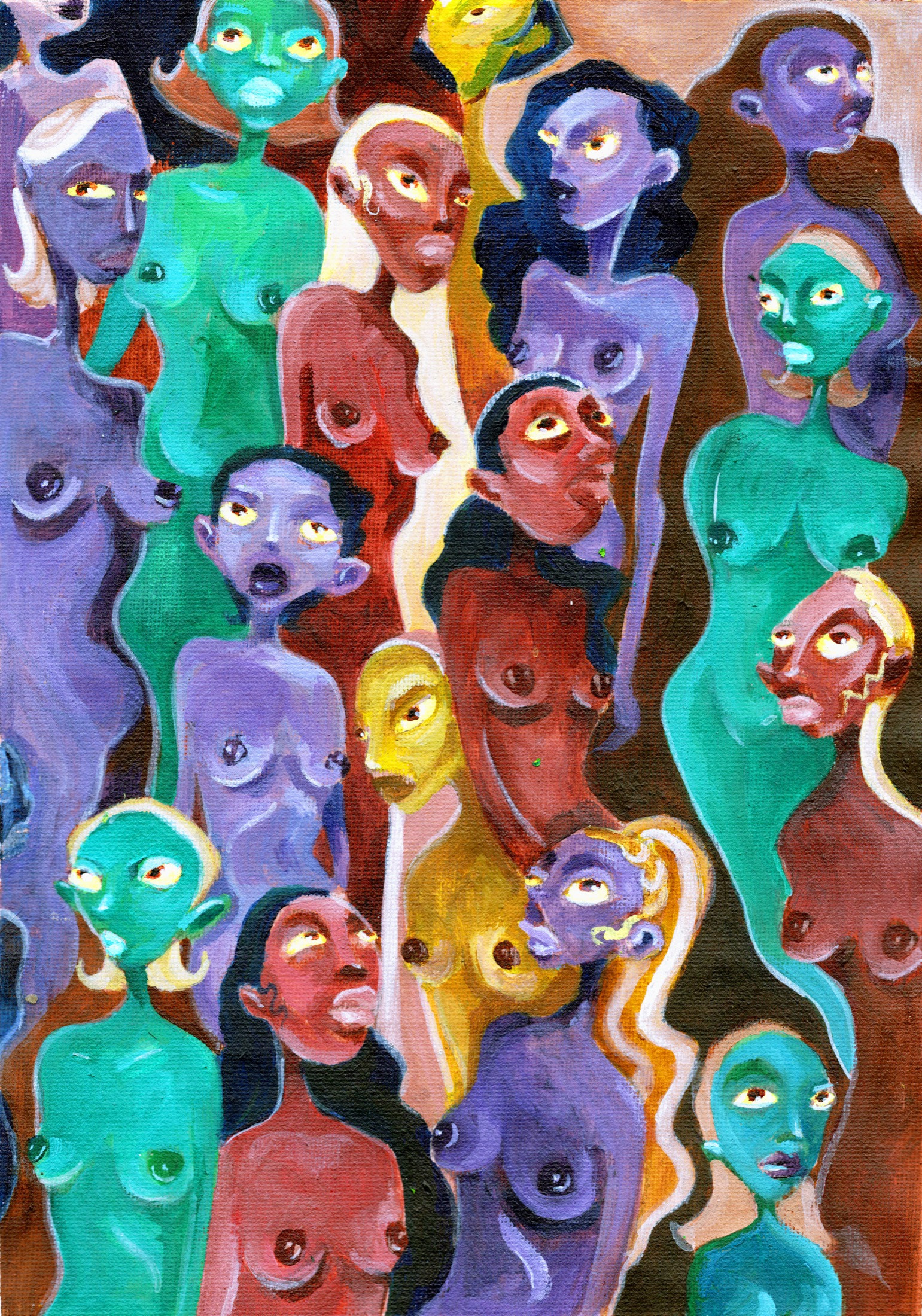 Both artists take different routes to parallel depictions of Black womanhood that are heavily influenced by their shared Jamaican heritage. In fi di gyal dem, Charlton & Lindsay's works are paired together in a series of diptychs that depict black women in various states of refusal; refusing to lower their gaze, refusing to tone down their sexuality, refusing to become less vibrant or nurturing – in world that conditions them to do anything but. This sentiment is punctuated by the collaborative works created by both artists that allow space for them to not just depict Black women, but each other – and themselves. It's an intimate exercise in representation that only enhances the potency of their messaging.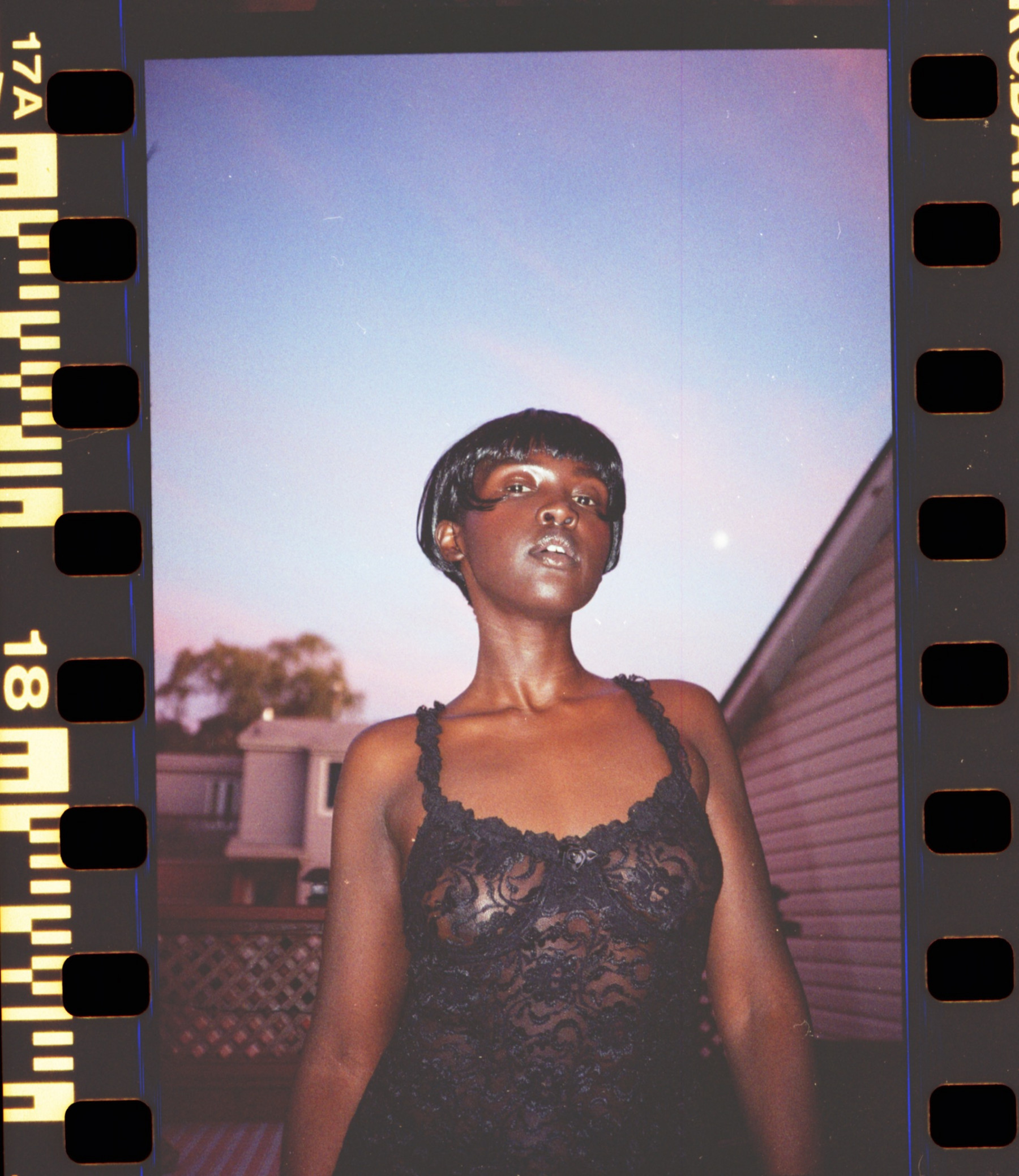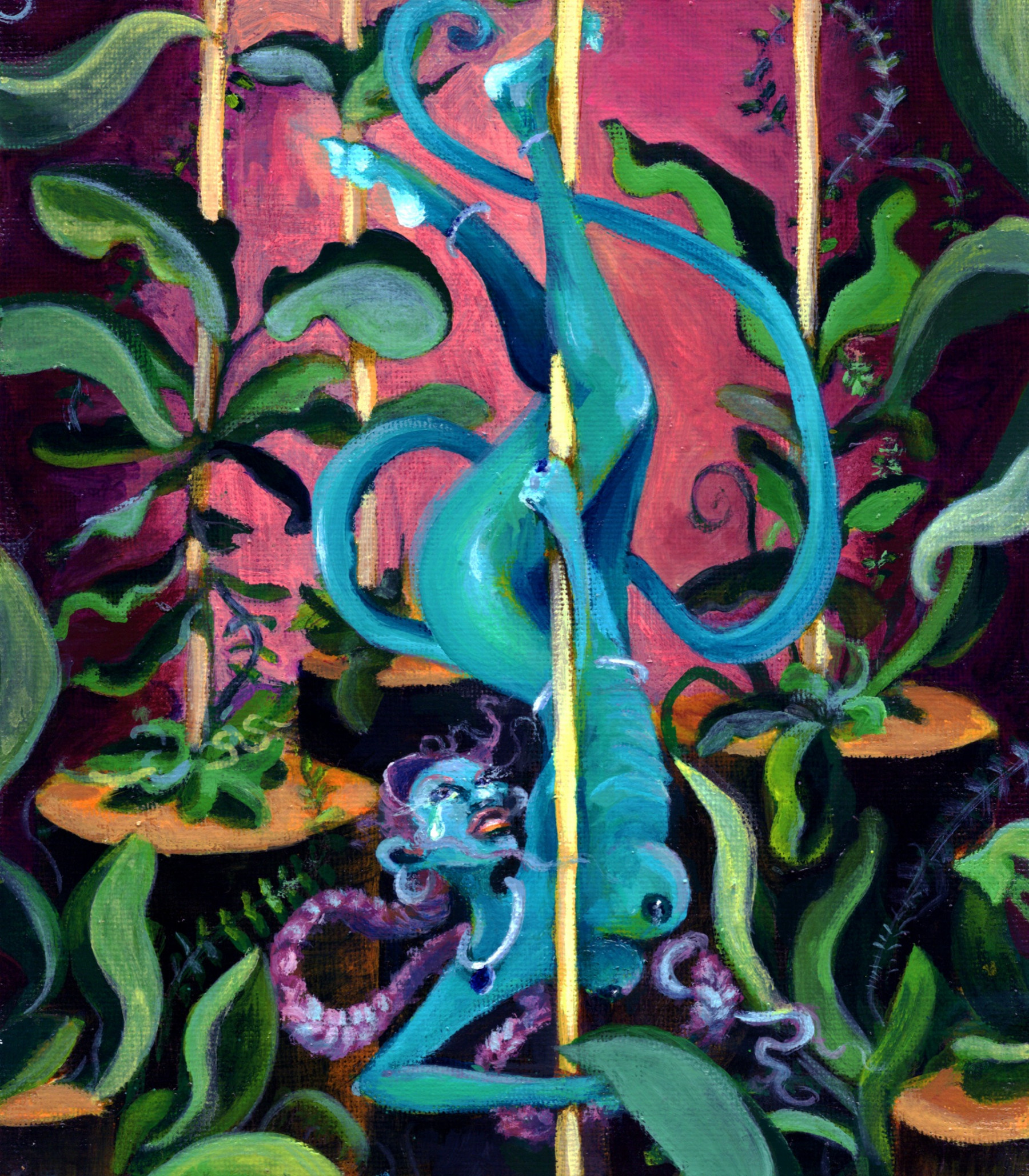 Sharine Taylor
Picha Dis
An Analysis of Jamaica's Contemporary Visual Arts and Fine Arts Ecology and a Case for its Expansion
In Jamaica, there is colour everywhere. It is not an anomaly for bright hues of cherry reds, deep oranges or bold blues to blanket residential homes; an antithetical palette to personality-absent bricks or whites, off-whites, eggshells and creams that adorn houses elsewhere. On the road, sunshine yellow Volvo buses make up the fleet of Kingston's public transit system, the Jamaica Urban Transit Company (JUTC). The more informal transit network of coaster busses—coasters busses, like dollar vans in New York, adopt the JUTC— are abundant with personality and are usually embellished in an assortment of vibrant colours with painted graphics as animated as the people who load them. Hand-painted signs advertising box food stands and nearby businesses dot roadways making mundane trips into town excitingly artful adventures. All the colours everywhere comprise the mosaic that is part of and informs Jamaica's visual art culture, and as much as art is an extension of our individual identities, it also tells the stories of a nation.
For many, Jamaica's music may come to mind first when thinking about its cultural output. As the effervescent cultural studies scholar Dr. Sonjah Stanley Niaah (2017) points out, a legacy of brilliant musicians throughout the country's history have been fundamental to the creation of ten distinct genres of music—reggae, dancehall, mento, ska, rocksteady, nyahbinghi, EDM, reggaeton, hip hop and arguably newer diasporic music artforms like afrowave (@SonjahStanley, 8 June 2017). Perhaps they are more familiar with Jamaica's gastronomy. Much like other nations within the Caribbean, Jamaica's culinary offerings were created for sustenance, comfort or by circumstance, materialized and reflecting the history of people who were once native, who arrived by force and who came through indentured servitude.
However, among the country's best kept secret, quite possibly existing within insular communities or on a need-to-know basis, is its collection of fine art luminaries and visual architects. Through traditional media, like paintings, sculptures, murals and the like, in addition to new media by way of digital illustrations, photography, film, mixed media, animation and typography, Jamaica's visual and fine artists, like artists the world over, have used their respective mediums as vehicles for stories and storytelling. Though, in many ways, the art tells on us. The works function as a collection of reflections, an indication of desires, a manufacturing of the internal made external and for a country like Jamaica, it becomes a catalyst for formerly colonized people and their descendants to contend with their pasts and current realities.
I remember being profoundly moved by an essay written by artist Aria Dean titled "Closing the Loop." "Closing the Loop" interrogated the politics of (self-)representation on the Internet, in digital media and the limitations of the selfie feminism white feminists were championing during the early aughts of Instagram (Dean 2016). Within the essay, Dean cites a portion of a manifesto affectionately referred to as "NOPE" created by interdisciplinary artist E. Jane, an ephemeral exploration of the intersection of identity and artwork (Ejanestudio 2015). However, an extended version of the manifesto reads, "I am not asking who I am. I'm a Black woman and expansive in my Blackness and my queerness as Blackness and queerness are always already expansive. None of this is as simple as 'identity and representation' outside of the colonial gaze. I reject the colonial gaze as the primary gaze. I am outside of it in the land of NOPE." (Ejanestudio 2015)
"The land of NOPE" could be a transformative perspective for visual and fine artists in Jamaica to occupy if they have yet to embody this ethos in their work. When thinking through art created by Caribbean people, in this instance Afro-Jamaican people, there is an unintentional occupation that extends far beyond their aesthetically edifying outputs. Their labour archives, documents and often crafts an image of self which functions in the same way both Dean and E. Jane suggest. Their creations are infinite with possibility, having the ability to contour and give their creators agency to shape an image of selfhood, statehood or offer reflections on current conditions. The mere existence of visual culture created by Jamaica's formerly colonized people renders a possibility of subverting the colonial gaze. It can and has become a vehicle for Afro-Jamaican people and artists to be autonomous in its visual identity and production, though there are still limitations in its output with the potential to reproduce biases and oppressions acquired individually or internalized.
The contributions Jamaican artists have made are rich. Fine artists like painter/sculptor Kapo (formerly known as Mallica Reynolds), painter Barrington Watson, sketch artist Ras Daniel Heartman, painter Albery Huie, mixed media artist Dawn Scott, expressionistic sculptor Christopher González, painter/sculptor Osmand Watson, ceramicist Michael Layne, architecture photographer Lyndon Douglas, photographer Donnette Ingrid Zacca, painter John Dunkley, abstract artist Eugene Hyde, photographer Ruddy Roye, painter/sculptor Leasho Johnson, painter and mixed-media artist Dr. Ebony G. Patterson, sign-painter Cleark "Nurse" James and photographer Peter Dean Rickards, whose contentious but intimate portraits chronicled Jamaican culture and exposed the realities of social stratification, are all part of an expansive collection of artists whose works have been foundational in crafting Jamaica's fine arts landscape. In film, people like screenwriter Trevor Rhone (The Harder They Come), director Esther Anderson (Short Ends), actor Lloyd Reckord (Hot Summer Night), director Storm Saulter (Betta Mus Come) and cinematographer Gabrielle Blackwood (Clarks + Jamaica) have been essential to contributing and expanding the cinematic Jamaican (Domise and Taylor 2018) and Jamaica aesthetics on screen. In the world of music during the 70s, Wilfred Limonious' work was a distinct feature of dancehall album cover art and, to many people's surprise, award-winning author Marlon James contributed to crafting iconic cover art as by way of the work he produced for Sean Paul's albums (Parham 2016; Parham 2018). All of the new media artists, and the generation of artists that preceded them have been indispensable to the sustenance and development of Jamaica's visual and fine arts culture, but what lies on the horizon? Nurturing and accessibility.
There are organizations who have made these two cornerstones part of their mandate. Kingston Creative is an arts-based non-profit whose goals are to "see the city of Kingston leverage its creative heritage" using downtown Kingston as a site to reconfigure how citizens, residents and tourists, interact with the space, the cultural production that has known to come from it and the cultural production it has the potential to create (Kingston Creative, n.d.). The Jamaican Film and Television Association, commonly referred to as JAFTA, cites "cultural exchange, capacity building and developmental initiatives, skills-sharing and community outreach" as actions they support (Jamaica Film and Television Association, n.d.). Both organizations offer funding for emerging creatives, in addition to their packed programming that aims to cultivate a community between creators, their craft and each other. In the world of cinema and digital arts, the work of the Kingstoon Animation Conference and Film Festival supplies animators with a chance to connect with international industry professionals in an effort to strengthen the local scene (Office of The Prime Minister, n.d.), and New Wave JA, a collective spearheaded by Grammy-nominated artist Protoje and his team, curate a wealth of pop-up events that centre community, culture and arts. In fact, the collective assembled a team of Jamaican photographers and partnered with Getty Images to create a collection of photographs with the intention to "inspire regional and global ad agencies to use images capturing the true Jamaican experience", reveals New Wave JA director Lindsey Lodenquai (Nwabugo 2019, para. 3). Contemporary visual can rest assured that there exists stepping stones they can consider aligning with in their journeys.
This is not an exhaustive list. There are likely organizations, collectives and initiatives outside of my periphery with the same objectives. It serves to acknowledge the efforts of established initiatives and speak to their potential to revolutionize the current visual arts landscape to something more elastic than its current form. Imagine the transformative possibilities of a Jamaica where all who aspire to pursue the creative arts have the support and network to do so, regardless of the social classes they hail from, regardless of whether they live in Kingston or another part of the country, regardless of their gender identity, regardless of their sexuality, and regardless of where they're located, which is a critical component when we consider the diaspora.
I have always been interested in what it means to be "Jamaican" and what definitions arise when invoked to index someone else or self. For many people, a Jamaican is someone born and raised on the island, but given that Jamaica's culture transcends its borders, in large part due to the labour of its diaspora, perhaps the definition can be reconfigured. According to the latest draft of Jamaica's in-progress National Diaspora Policy, diaspora is defined as "first-generation Jamaicans and their descendants of up to five generations and though it has yet to be confirmed, its size is three million (Government of Jamaica Ministry of Foreign Affairs and Foreign Trade 2019). Many of these people ascribe themselves with hybrid identities where 'Jamaican' occupies the suffix or prefix of another nationality—i.e., Jamaican-Canadian or Canadian-Jamaican—but tensions arises when they identify exclusively as Jamaican. They are often challenged by a population of Jamaican-born citizens who ascribe their living in farrin (Patois for 'abroad') as falling outside of Jamaican identity. Using Toronto as a site of analysis reveals a template to understand why a member of the diaspora, particularly its first-gens, would opt in for the latter identifier.
Canada and Toronto saw an uptick of emigration from the Caribbean, and especially Jamaica, in the 70s. Almost 50 years later, each generation's presence has influenced music (Elder 2016), language (Taylor 2019) and the overall contemporary culture of the city. The diaspora plays an important role in recreating or maintaining traditions from back home and adjusting it to their locales. To affix identity to a geographic location assumes those who live within its confines exist under a monolith. Though there are shared experiences that may unite someone living in Norbrook, Kingston with someone living in May Pen, Clarendon with someone living in Savanna-la-Mar, Westmoreland, an individual's intersecting identities shape how they navigate the spaces they occupy, despite having shared nationality. If we know this to be true, then it is fair to extend this sentiment to artists in the diaspora. How they take up identity in their artwork can be used to widen the ecology of Jamaica's visual and fine arts.
One way is through archiving and reimagining photo albums, a visual art practice that provides an opportunity to explore or mediate on one's identity, citizenship and sense of belonging. Though situated within the context of intergenerational trauma of second-generation descendants of Holocaust survivors (Hirsch 2008) Marianne Hirsch's conceptualization of postmemory can be a useful tool to think through the aforementioned. Postmemory is described as "the relationship that the generation after those who witnessed cultural or collective trauma bears to the experiences of those who came before, experiences that they 'remember' only by means of the stories, images, and behaviors among which they grew up. Postmemory's connection to the past is thus not actually mediated by recall but by imaginative investment, projection, and creation" (Hirsch, 2008, 106). Additionally, visual artists that engage with family album projects, according to Allnut, Mitchell, and Stuart (2007) who, again, locate Hirsh's assertion as integral to this practise, suggest that the albums can become a catalyst for providing context both socially and culturally (90). Through the process of re-creating an album, or making the private public, family album projects afford a kind of interrupting as it takes the new context into consideration, in turn "[contributing] to a normalised representation of family useful in the ensuing discussions on identity and social change" (Allnut, Mitchell, and Stuart 2007, 92). The act of using postmemory to reimagine and give added substance to portraiture and family albums are embedded in photographer Jorian Charlton's practise. The artist has used the two as sites to engage with her own meditations on Jamaican-Canadian identity and the active practise of capturing the intimacy of Blackness, Black life and Black community. She activates postmemory through her exploration of the combined Jamaican-ness and Canadian-ness of self and community, and considers her heritage, immigration as factors that inform diasporic identity and aesthetic and how may resemble or depart from the generation prior.
It feels almost erroneous to locate or compare Kadine Lindsay's work within an artistic framework constructed, informed and maintained by whiteness. The artist stands firm in her creations being made for and by Black people and uses her illustrations, paintings and animations as a vessel. Creating within the realm of Afro-Surrealism, and often infusing iconography that nods to her Jamaica-born roots, her uniquely composed characters, with their subtle exaggerations and contorted proportions, speak to the expansiveness of Blackness. Her intentional rejection of the white gaze is important to note. Colonialism not only granted Europeans control of land, people and resources, but also the production of fine art, which was burdened with racist stereotypes and demeaning imagery (Dixon 2020, 162). Lindsay's conscious subversion of how whiteness has afflicted the production of Jamaica's output of art affords interacting with her work to be an insulated experience. It functions as a catalyst for intracommunal dialogue where negotiations of how Blackness is defined and could be defined is generative.
There is another element to consider as well: tourism. In Inter-American Development Bank's 2021 Tourism Dependency Index, Jamaica ranked 13th in the world on most tourism-dependent countries (Jamaica Observer Limited 2021). Visual and fine art then take on a different form as it can become or be used as a tool within the colonial project of producing or reproducing imagery that does not depart from its origins. The way in which Anglo-Caribbean is visually imagined is rooted in the early aughts of transforming the British West Indies as a tourism industry in the latter half of the nineteenth century (Thompson 2006, 4). The photographs that were later produced created 'place-images'—"a set of core representations that form 'a widely disseminated and commonly held set of images of a place or space"—and 'destination image', a means to "characterize a place-image created precisely for the promotion of tourism" (Thompson, 2006, 5). This phenomenon is what Thompson (2006) has coined as tropicalization: "the complex visual systems through which the islands were imaged for tourist consumption and the social and political implications of these representations on actual physical space on the islands and their inhabitants" (5). Lindsey's observation of the contemporary landscape's plateau doing little to divest from this kind of image making (@KadineLindsay, 3 July 2020) texturizes her work even more in the intentionality of its form, the themes she explores and the desire to broaden the canon outside of the lens of respectability. The limitations of tropicalization disrupts the potentiality to expand Jamaica's visual art canon and the artist operates outside of it.
Jamaica's culture exists in a paradox, leaving much to be desired in terms of how its scope can be widened while also, and historically, having a tremendous output and breadth of influence. Its fine and visual arts culture are no exception. This is not an implication that it needs to expand for the consumption of other people or communities, but an interrogation of why our limitations exist where they do and how we can move beyond them to foster a spirit of innovation. While there are organizations that exist to prop specific segments of the visual arts communities up, there is still room for growth to support people who exist outside of the peripheries, whether that be informed by geography or identity. The diaspora plays an important role here in accompanying that mission and Charlton and Lindsay's work fall in line with it. With desires to see how far the artistic envelope can be pushed in a way that sustains itself outside of the purview of oppression and build on the legacies of the pre-existing labour of visual and fine artists of the past, we are sure to be met with a more spirited palette. The colours that are everywhere in Jamaica and beyond continue to live.
Allnut, Susann, Claudia Mitchell, and Jean Stuart. "The Visual Family Archive: Uses and Interruptions." In Putting People in the Picture, 89-99. Netherlands: Brill, 2007. Accessed August 4, 2021. https://brill-com.myaccess.library.utoronto.ca/view/book/9789087901813/BP000008.xml.
Culture Doctor of Kingston (@SonjahStanley). 2017. "That's why I'm a teacher. In 50 yrs many will be able to say 'JA is only country 2 give world 10 distinct genres of music over 100yrs.'" Twitter, 8 June 2017. https://twitter.com/SonjahStanley/status/872959064438964224
Dean, Aria. "Closing the Loop." The New Inquiry. April 18, 2017. Accessed August 04, 2021. https://thenewinquiry.com/closing-the-loop/.
Dixon, Carol Ann. "Four Women, for Women: Caribbean Diaspora Artists Reimag(in)ing the Fine Art Canon." African and Black Diaspora: An International Journal 13, no. 2 (January 12, 2020): 161-76. Accessed August 4, 2021. doi:10.1080/17528631.2019.1701810.
Domise, Andray, and Sharine Taylor. "Luke Cage's Portrayal of Jamaicans Was Atrocious." VICE. June 27, 2018. Accessed August 04, 2021. https://www.vice.com/en/article/8xep35/to-the-producers-of-marvels-luke-cage-enough-with-the-jafaikans.
E-Janestudio. "I Am Not an Identity Artist Just Because I Am a Black Artist with Multiple Selves." A GLORIOUS NOBODY HOVERING AT THE END OF THE WORLD. November 01, 2015. Accessed August 04, 2021. https://e-janestudio.tumblr.com/post/132335744305/i-am-not-an-identity-artist-just-because-i-am-a.
Elder, Sajae. "Where Did Drake's "Jamaican" Accent Come From?" BuzzFeed News. July 28, 2016. Accessed August 04, 2021. https://www.buzzfeednews.com/article/sajaee/some-ting-borrowed.
Feeling: JAMAICAN (@KadineLindsay). 2020. "By low I mean (based on what I've seen) there isn't much room to be different or to stray too far from the norm Jamaican art is for the most part is made to be." Twitter, 3 July 2020. https://twitter.com/KadineLindsay/status/1279170730249371650
Government of Jamaica Ministry of Foreign Affairs and Foreign Trade. NATIONAL DIASPORA POLICY. PDF. March 2, 2020.
Hirsch, M. "The Generation of Postmemory." Poetics Today 29, no. 1 (2008): 103-28. Accessed August 4, 2021. doi:10.1215/03335372-2007-019.
Jamaica Film and Television Association. "About Us: JAFTA - Jamaica Film." JAFTA. Accessed August 4, 2021. https://www.jaftaonline.com/about-us.
Jamaica Observer Limited. "Jamaica Ranked 13th Most Tourism-dependent Economy in the World." Jamaica Observer, May 18, 2021. Accessed August 4, 2021. https://www.jamaicaobserver.com/latestnews/Jamaicaranked13thmosttourism-dependenteconomyintheworld.
Nwabugo, Christina. "Repicturing Jamaica: New Wave JA." Creative Insights - Getty Images. December 23, 2019. Accessed August 04, 2021. https://creativeinsights.gettyimages.com/en/repicture/our-partnerships/repicturing-jamaica-new-wave-ja.
Kingston Creative. "Our Story." Kingston Creative. Accessed August 04, 2021. https://kingstoncreative.org/ourstory/.
Office of The Prime Minister. "About KingstOOn." KingstOOn. Accessed August 04, 2021. https://kingstoonfest.com/about-kingstoon/.
Parham, Jason. "This Award-Winning Novelist Used To Design Sean Paul Album Covers." The FADER. April 25, 2018. Accessed August 04, 2021. https://www.thefader.com/2016/07/12/sean-paul-album-covers-marlon-james.
Parham, Jason. "How Wilfred Limonious Became Jamaica's Most Prolific Illustrator." The FADER. April 25, 2018. Accessed August 04, 2021. https://www.thefader.com/2016/08/31/wilfred-limonious-jamaican-designer.
Taylor, Sharine. "Toronto's Slang Isn't 'New.' It's Black." VICE. October 21, 2019. Accessed August 04, 2021. https://www.vice.com/en/article/7x5mmq/drake-torontos-slang-isnt-new-its-black.
Thompson, Krista A. "Introduction: Tropicalization: The Aesthetics and Politics of Space in Jamaica and the Bahamas." In An Eye for the Tropics: Tourism, Photography, and Framing the Caribbean Picturesque, 1-26. Durham: Duke University Press, 2006.
Read Essay
fi di gyal dem places Charlton & Lindsay's work alongside user-generated meme content that embodies this spirit of refusal, contextualizing both artists' work within a larger scope of Black female cultural production. In doing so, this digital exhibition becomes a vehicle to celebrate not only the artists' work, but a larger Black artistic tradition of cultural innovation borne of defiance and a refusal to do as told.